DOJ's Secret Interrogation Opinions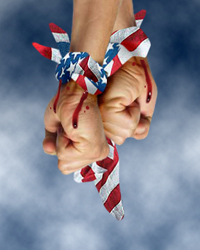 Following up on Big Tent Democrat's earlier post, the New York Times has a five page article revealing that in 2005, over the objections of his Deputy Attorney General James Comey, Attorney General Alberto Gonzales approved legal opinions written by Steven Bradbury concerning enhanced interrogation techniques.
The 2005 Justice Department opinions remain in effect, and their legal conclusions have been confirmed by several more recent memorandums, officials said. They show how the White House has succeeded in preserving the broadest possible legal latitude for harsh tactics.
Who is Bradbury? [More...]