N.C. Files Ethics Complaint Against DA Mike Nifong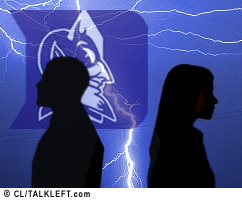 Bump and Update: The North Carolina Bar has filed an ethics complaint against DA Mike Nifong for his improper extra-judicial comments in the Duke Lacrosse players alleged rape case. Professor KC Johnson has reviewed it and provides analysis.
The filing focuses solely on his procedurally improper public statements, which the Bar (correctly) contends violated Rule 3.8(f) of the Code of Professional Responsibility. That provision requires prosecutors to "refrain from making extrajudicial comments that have a substantial likelihood of heightening public condemnation of the accused."
The text of the complaint is here (pdf).