Tag: Mike Nifong
Ex Durham District Attorney Mike Nifong filed for bankruptcy today. Also today, his answer to the civil lawsuits filed by the exonerated players were due.
In the October lawsuit, attorneys for the three players accused Nifong, the city of Durham, police investigators and others of conducting "one of the most chilling episodes of premeditated police, prosecutorial and scientific misconduct in modern American history."
Nifong listed his liabilities at $180 million. The case is: In re Michael B. Nifong, 08-80034, U.S. Bankruptcy Court, Middle District of North Carolina (Durham).
(3 comments) Permalink :: Comments
Three current and former Duke lacrosse players who were not among those indicted in the failed criminal case, have filed a civil lawsuit against 45 defendants, including Duke University, DA Mike Nifong, the Durham police department and several individual officers, the Duke medical center and the SANE nurses, the DNA lab and its owner in a 400 page complaint filed in federal court.
The introductory paragraph of the complaint states:
This action arises out of a combination of actors and entities that, from time to time, we refer to herein as the Consortium. The Consortium included a world renowned University, its faculty, its police department, its medical center, and a SANE nurse; a city, its city manager, its police department, and a rogue officer; a private DNA lab, its lab director, and its owner; and a prosecutor who was disbarred, and subsequently convicted of contempt and incarcerated for certain of his acts in furtherance of the Consortium's conspiracy.
The complaint alleges a conspiracy to railroad the team members:
Plaintiffs' claims arise out of the Consortium's conspiracy to railroad 47 Duke University students as either principals or accomplices based upon the transparently false claim of rape, sexual offense, and kidnapping made by a clinically unreliable accuser on March 14, 2006. The conspiracy was facilitated by overt acts and by the refusal to intervene on the part of those in the Consortium who knew of the wrongs conspired to be done to Plaintiffs, had the power and authority to intervene, and refused to do so.
The complaint is available in three parts, here, here and here (pdf.)
More...
(4 comments, 503 words in story) There's More :: Permalink :: Comments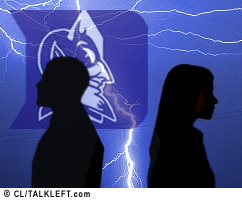 The three much maligned and wrongfully charged Duke lacrosse players filed their civil suit against ex-DA Mike Nifong and the City of Durham today.
The three former Duke lacrosse players wrongly accused of rape filed a sweeping civil rights lawsuit today against the city of Durham, a host of police officers, former District Attorney Mike Nifong, and the DNA laboratory hired by the disbarred former prosecutor.

The 162-page lawsuit called the case "one of the most chilling episodes of premeditated police, prosecutorial, and scientific misconduct in modern American history, which resulted in charges brought and maintained against three innocent Duke University students and lacrosse players over a period of more than one year. "
Here's what the players want. The copy of the complaint is here (pdf).
The Defendants:
(1 comment, 271 words in story) There's More :: Permalink :: Comments
Disgraced ex-DA Mike Nifong reported to jail today to serve his 24 hour sentence for criminal contempt of court. He will be put in a single cell for his safety.
A source close to the three wrongly accused players says they are seeking $30 million in damages and reforms to the legal system. If those demands are rejected, the players will file suit next month.
All of TalkLeft's coverage of the Duke case is available
here
.
I also highly recommend the new book,
Until Proven Innocent: Political Correctness and the Shameful Injustices of the Duke Lacrosse Rape Case
by Stuart Taylor, Jr. and KC Johnson.
(2 comments) Permalink :: Comments
A North Carolina judge today found ex-DA Mike Nifong in contempt of court for lying to the court about providing DNA tests to defense counsel in the abysmal Duke lacrosse players proseuction.
Superior Court Judge W. Osmond Smith III sentenced Nifong, who has already been stripped of his law license and has resigned from office, to a single day in jail. He had faced as many as 30 days in jail and a fine as high as $500.
Prof. K.C. Johnson live-blogged the contempt trial.
(1 comment) Permalink :: Comments
DA Mike Nifong issued an apology to the three vindicated Duke lacrosse players today in court.
A hearing is ongoing as to whether Nifong committed criminal contempt of court. After the apology, the defense lawyers withdrew their request for sanctions.
Contempt of court is an affront to the dignity of the Court. The court is the victim.
The Judge previously found probable cause to believe that Nifong lied to the court at two pretrial hearings.
If convicted, Nifong could be fined and sentenced to up to 30 days in jail. He has resigned as DA and been ordered disbarred.
(1 comment) Permalink :: Comments
The North Carolina State Bar today filed its formal opinion in the disbarment of Durham DA Mike Nifong for his actions in the discredited Duke Lacrosse players' case.
The opinion is here.
Nifong also has a criminal contempt hearing on deck for July 26. He has been ordered to appear personally. He also has a new lawyer.
(4 comments) Permalink :: Comments
DA Mike Nifong submitted his resignation letter Monday, to take effect July 13, but that wasn't fast enough for Superior Court Judge Orlando Hudson. The Judge ordered him suspended immediately and has appointed a special prosecutor, Wake County attorney Robert Zaytoun, to handle a civl removal case against him.
In February, Durham resident Elizabeth Brewer had filed a civil complaint asking Hudson to remove Nifong under a section of state law. She claimed Nifong had exhibited willful misconduct and conduct prejudicial to the administration of justice that brings the office into disrepute.

Orlando put off action on Brewer's motion then pending the outcome of the Bar action against Nifong, and he did the same against in April when she renewed her request.
The New York Times has more details.
(3 comments) Permalink :: Comments
Bump and Update: (live blogging court ruling now)
The panel has deliberated. Disbarment is the only appropriate recommendation. The root of this case is self-deception arising out of self-interest. We had a prosecutor in a case where his self-interest collided with race, sex and class. If part of a John Grisham novel, it would be too contrived. He was facing a primary and he was politically naive. We can draw no other conclusion but the initial statements he made [to the media] were to further his political ambition.
Then, he refused to change his mind and accept the facts as they developed even in the face of a declaration of actual innocence by the Attorney General. (Even yesterday, on the witness stand, he clung to the mistaken belief that something happened.)
Aggravating factors found: selfish motive, a pattern of misconduct, multiple offenses, refusal to acknowledge misconduct, substantial experience in practice of law.
Mitigating factors: lack of prior record and character.
Finding: Aggravating factors outweigh mitigating factors.
This matter appears to be an aberration in both Nifong's career and the way justice is handled in North Carolina. But we have to recommend the most severe penalty, disbarment.
More...
(23 comments, 1304 words in story) There's More :: Permalink :: Comments
Bump and Update: Embattled D.A. Mike Nifong, while testifying in his ethics trial today, announced on the stand he is going to resign.
Facing the loss of his law license, a tearful Mike Nifong said Friday he will resign as district attorney, more than a year after he obtained rape indictments against three Duke University lacrosse players who were later declared innocent by state prosecutors. "My community has suffered enough," Nifong said from the witness stand at his ethics trial on allegations that he violated rules of professional conduct in his handling of the case.
You can watch the video of his announcement here.
Why make the announcement now? Perhaps because the trial has gone really badly for him, a decision is expected tomorrow and he's hoping for suspension rather than disbarment. If he admits his mistakes and resigns, perhaps he will avoid disbarment and be able to practice law again one day.
Closing arguments and deliberations are Saturday beginning at 9:00 a.m.
Original Post Below:
(5 comments, 414 words in story) There's More :: Permalink :: Comments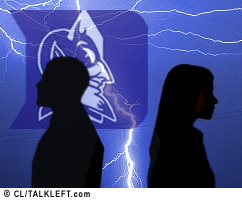 Durham, N.C. District Attorney Mike Nifong faces the music today for his conduct during the debacle that became the Duke lacrosse players' non-sexual assault case.
The ethics trial is being streamed at WRAL.com and you can watch live here.
The bar prosecutor's side:
"This didn't have to happen and the horrible consequences were entirely foreseeable," State Bar Counsel Katherine E. Jean said during her opening statement. "The harm done to these three young men and their families and the justice system of North Carolina is devastating."
More....
(30 comments, 457 words in story) There's More :: Permalink :: Comments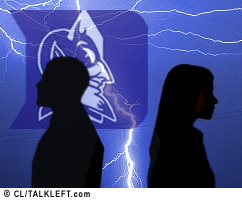 When the North Carolina Attorney General declared the three charged Duke Lacrosse players innocent of sexual assault and stated there was no credible evidence to support that any attack had taken place that night, he promised he would be releasing a report.
The report was released today. You can read it here (pdf).
His findings:
The accusing witness's testimony regarding the alleged assault would have been contradicted by other evidence in the case from numerous sources;

The accusing witness's testimony regarding the alleged assault and the events leading up to and following the allegations would have been contradicted by significantly different versions of events she told over the past year;

No testimony or physical evidence would have corroborated her testimony;

The accused individuals were identified through questionable photographic procedures;
More...
(5 comments, 426 words in story) There's More :: Permalink :: Comments