A Child of Jihad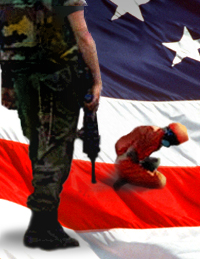 Via Crooks and Liars, Rolling Stone has a very long feature article on Omar Khadr, who as I wrote here, here and here, comes from a long line of al Qaeda fighters and has been imprisoned at Guantanamo since he was 15.
As Jeanne of Body and Soul wrote a few years ago:
The problem is, Omar Khadr is as much a victim of these people as a member of the family. He's eighteen years old. When he was captured in Afghanistan, he was fifteen -- a child turned into a soldier by parents from hell. And our government's response to this victim of child abuse was to abuse him further.
Omar's American lawyer, Muneer Ahmad, has detailed his clients' torture allegations before. As the Toronto Star reported:
In February, his U.S. lawyer told reporters the teenager had been used as a human mop to clean urine on the floor and had been beaten, threatened with rape and tied up for hours in painful positions at Guantanamo Bay.
Rolling Stone describes his capture:
At Ab Khail, a sergeant later said, every U.S. soldier who walked by Omar longed to put a bullet in his head. But an American medic, working near the corpse of Sgt. Speer, saved Omar's life, and he was taken to a hospital at Bagram Air Base with a bullet-split chest and serious shrapnel wounds to the head and eye. U.S. intelligence officers began interrogating him as soon as he regained consciousness. At that moment, Omar entered the extralegal archipelago of torture chambers and detention cells that the Bush administration has erected to prosecute its War on Terror. He has remained there ever since.
Here's one incident of torture:
....An hour or two later they came back, checked the tautness of his chains and pushed him over on his stomach. Transfixed in his bonds, Omar toppled like a figurine. Again they left. Many hours had passed since Omar had been taken from his cell. He urinated on himself and on the floor. The MPs returned, mocked him for a while and then poured pine-oil solvent all over his body. Without altering his chains, they began dragging him by his feet through the mixture of urine and pine oil. Because his body had been so tightened, the new motion racked it. The MPs swung him around and around, the piss and solvent washing up into his face. The idea was to use him as a human mop. When the MPs felt they'd successfully pretended to soak up the liquid with his body, they uncuffed him and carried him back to his cell. He was not allowed a change of clothes for two days.
The torture is by design, not an aberration.
The design of Omar Khadr's life at Guantanamo Bay apparently began as a theory in the minds of Air Force researchers. After the Korean War, the Air Force created a program called SERE -- Survival, Evasion, Resistance and Escape -- to help captured pilots resist interrogation. SERE's founders wanted to know what kind of torture was most destructive to the human psyche so that they could train pilots to withstand it. In experiments, they held subjects in dummy POW camps and had them starved, stripped naked and partially drowned. Administrators carefully noted the subjects' reactions, often measuring the levels of stress hormones in their blood.

The most effective form of torture turned out to have two components. The first is pain and harm delivered in unpredictable, sometimes illusory environments -- an absolute denial of physical comfort and spatial-temporal orientation. The second is a removal of the inner comfort of identity -- achieved by artfully humiliating people and coercing them to commit offenses against their own religion, dignity and morality, until they become unrecognizable to and ashamed of themselves.
Omar's lawyers describe their client:
It took Omar a while to accept that his lawyers were not part of the interrogation system at Guantanamo. Their initial visits, Wilson says, were spent trying to get him to believe in them -- legal strategy was secondary. Gradually, Omar revealed himself to be very shy and curious and, in most ways, still a child, with a child's sweetness and credulous charm. Despite the rate at which his bones were lengthening, isolation and trauma seemed to have preserved him in emotional time. When he learned a new word -- his experiences had left odd gaps in his knowledge -- he tried to use it right away, and as often as possible. When Wilson and Ahmad offered to get him something to read, he asked for coloring books and car magazines and books with photographs of big animals. When they asked him what kind of juice he wanted them to bring back after a break during one meeting, he said, "Just something weird."
This is an utterly sickening but must read article that provokes the response, "Not in My Name." It has to stop.