Duke Lacrosse Hearing Today for Seligman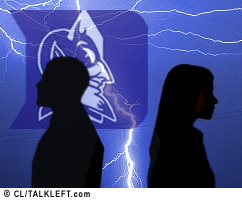 Accused Duke Lacrosse player Reade Seligman has a hearing at 2:30 ET this afteroon. So do 9 other defendants. Seligman's lawyers want to raise some discovery issues, and it's not clear whether there will be enough time to battle over what they are entitled to.
In other case news, lawyer Mark Simeon, who reprsesents Dancer #2, Kim Roberts and may come to represent the accuser, is asking that the accuser's family lay off their media appearances so they don't hurt her case.