Fitzgerald Receives 250 Pages of Cheney Office E-mails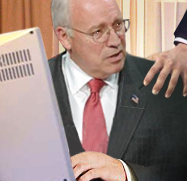 At today's hearing in the Scooter Libby case, Patrick Fitzgerald told the defense the White House recently had turned over to his office 250 pages of e-mails from Dick Cheney's office.
Is Cheney in trouble? Jason Leopold reports:
The emails are said to be explosive, and may prove that Cheney played an active role in the effort to discredit Plame Wilson's husband, former Ambassador Joseph Wilson, a vocal critic of the Bush administration's prewar Iraq intelligence, sources close to the investigation said.

Sources close to the probe said the White House "discovered" the emails two weeks ago and turned them over to Fitzgerald last week. The sources added that the emails could prove that Cheney lied to FBI investigators when he was interviewed about the leak in early 2004. Cheney said that he was unaware of any effort to discredit Wilson or unmask his wife's undercover status to reporters.