by TChris
A Supreme Court Justice's law clerk has the potential to influence some of the Court's written opinions. Justice Alito is catching criticism for hiring Adam Ciongoli, "a former top aide to Attorney General John Ashcroft and an architect of the Bush administration's legal strategy after the Sept. 11, 2001, attacks, to be one of his law clerks." Here's one example:
"It really indicates a lapse in judgment," Deborah L. Rhode, who teaches legal ethics at Stanford, said of Justice Alito's decision. "I just don't think it helps your reputation for nonpartisanship, particularly after such partisan confirmation hearings, to start out by hiring someone who is perceived to have an ideological agenda."
The concern is that Ciongoli might weigh in on cases addressing the administration's detention without trial of those it labels as enemy combatants.
(9 comments, 264 words in story) There's More :: Permalink :: Comments
Justice Sam Alito has chosen his five law clerks. The latest pick is not someone just out of law school, but a former Justice Department lawyer who was a close confidant of John Ashcroft:
Adam G. Ciongoli, 37, a senior vice president at Time Warner Inc., served as counselor to Ashcroft from 2001 to 2003. He attended Georgetown University Law Center, clerked for Alito at the Philadelphia-based U.S. Court of Appeals for the 3rd Circuit from 1995 to 1996, and helped prepare the justice for his recent confirmation hearings.
(13 comments, 242 words in story) There's More :: Permalink :: Comments
Judge Sam Alito has been confirmed to the Supreme Court. The vote was 58 to 42. The only confirmed justice to receive fewer favorable votes was Clarence Thomas.
In an e-mail, People for the American Way states that SavetheCourt generated 600,000 faxes and e-mails to Senators in just the past several days.
In my Scoring Scotus column today at Altercation, I talk about the impact that efforts by bloggers and activists had on the Democratic leadership, and what it portends for 2006 and 2008.
In his floor comments opposing Alito today, Senator Harry Reid lamented the rejection of Harriet Miers and blamed the radical right. I agree with him. Miers would have been far preferable to Alito. And she never even got to have a hearing, much less an up or down vote. (no link yet, received by e-mail.)
(23 comments, 346 words in story) There's More :: Permalink :: Comments
25 Senators stood proud today and voted to extend debate on Judge Sam Alito. They deserve your thanks and your praise. Here's the list:
Bayh, Evan (D-IN)
Biden, Joseph R., Jr. (D-DE)
Boxer, Barbara (D-CA)
Clinton, Hillary Rodham (D-NY)
Dayton, Mark (D-MN)
Dodd, Christopher J. (D-CT)
Durbin, Richard (D-IL)
Feingold, Russell D. (D-WI)
Feinstein, Dianne (D-CA)
Jeffords, James M. (I-VT)
(28 comments, 210 words in story) There's More :: Permalink :: Comments
By a vote of 75 to 25, the Senate today ended debate on the nomination of Judge Sam Alito to the Supreme Court. The final vote is tomorrow, and over 40 Senators are expected to vote against his nomination.This means Alito will receive more "no" votes than any other confirmed Supreme Court nominee in the last 100 years, other than Justice Clarence Thomas. (via Save the Court)
TalkLeft offers many thanks to the courageous band of 25 who stood firm, did not yield, and voted their consciences which told them that Judge Alito was outside the mainstream and not an appropriate choice for a lifetime appointment to our nation's highest court.
From People for the American Way (received by e-mail, no link yet):
(24 comments, 447 words in story) There's More :: Permalink :: Comments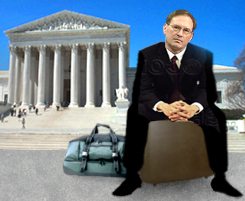 Republican Lincoln Chafee will vote against Alito but for cloture. Too bad. Lieberman has not yet decided on cloture, despite what CNN said. Call or fax his office now.
Jeffords will vote against cloture. Keep those calls and faxes to all who oppose Alito, particularly those in the Gang of 14, now. It's not over till it's over.
Let's send Judge Alito back to New Jersey. Numbers are below the fold, thanks to Reddhedd and Armando who are way out in front on this:
(27 comments, 443 words in story) There's More :: Permalink :: Comments
On ABC's This Week, Sens. Joe Biden and Barak Obama were critical of the Democrats' filibuster plan, but Biden said he will vote for it "one time."
Keep the faxes going. It's not over. And go for the phones Monday morning. You can use these toll-free numbers (and ask for the Senators by name): 888-355-3588 or 888-818-6641.
Fax numbers are here or use Save The Court's form and they'll send it for you.
(12 comments) Permalink :: Comments
Don't give up on the filibuster. Even if we lose, it sends a powerful message, not just about Alito but about what we'll do if future uber-conservatives are nominated. And it's still possible, though a long shot, the Dems could pull it off. Pressure from constituents is key.
Sen. Edward Kennedy held a blogger conference call today about Judge Sam Alito's nomination and the filibuster plans. I couldn't make it but McJoan and at Daily Kos and Jane at Firedoglake have reports. Georgia100 at Daily Kos has the fax numbers. From McJoan:
He is encouraging you to contact your Democratic Senators, regardless of what they might have said so far, but specifically mentioned Senators Pryor, Lincoln, Cantwell, Murray, Baucus, Harkin, Levin, Bayh, Lautenberg, Menendez, and Lieberman. In addition, he said to keep the pressure on Republican Senators Snowe, Collins, Chaffee, and Stevens.

Senator Kennedy talked in particular about one thing that I think is critical to keep in mind as we approach our Senators, and for them to keep in mind as they are considering this vote. We need to overcome the media noise machine by letting our Senators know that in voting their conscience, and making it clear that they are voting on principle, on conscience, they will overcome the media noise machine calling them obstructionists. We can help them realize this by letting them know that we've got their backs. That they are voting our conscience as well, and that we will not forget their courage.
(361 words in story) There's More :: Permalink :: Comments
Sen. Harry Reid, Hillary Clinton, Diane Feinstein, Barbara Boxer, Dick Durbin, Russ Feingold, Debbie Stabenow, Ted Kennedy all have come out in support of John Kerry's filibuster plan.
E-mail them your appreciation. And keep working on those who resist. Sen. Feinstein said last week she'd oppose a filibuster and yet changed her mind. Others can as well.
Those Democrats opposing the filibuster, like Sen. Barbara Mikulski of Maryland, use reasoning like this:
Democratic officials said Mikulski had said during this week's closed-door caucus that the 2006 and 2008 elections were more important than a symbolic last stand that would fail to prevent Alito's confirmation.
Let your Senators know that if they support the filibuster, you will work even harder for a Democratic majority in 2006. Show Mikulski she's wrong.
(27 comments, 481 words in story) There's More :: Permalink :: Comments
by TChris
The Lawyers' Committee for Civil Rights Under Law worries (with good reason) that Judge Alito, if confirmed, would further erode the Supreme Court's willingness to interpret civil rights laws as Congress intended: to benefit victims of discrimination.
During his 15 years on the bench and participation in thousands of cases, Judge Alito has never written an employment discrimination opinion in favor of an African American on the merits of their race claim. Judge Alito attempted to downplay this point by referencing five cases where he was supposedly supportive of race-based claims. However, our research revealed that these five cases do not support the argument made by Judge Alito and his supporters.
The full text of the Lawyers' Committee's Senate testimony is here (pdf).
(4 comments, 170 words in story) There's More :: Permalink :: Comments
Update: The commenters at Daily Kos are pretty sure this is a hoax post. If so, I'll be taking it down entirely.
*********
A poster at Daily Kos reports on a telephone conversation he had with a staffer in Colorado Senator Ken Salazar's office when he called to ask that Salazar join the filibuster against Judge Sam Alito. Here's part of what the poster reports:
If he's so worried about this extreme judge, what's his problem with supporting a filibuster? I asked the staffer that, and then something happened that blew my f**king mind.

He hesitated for a moment, and then said the following:

"I understand your concerns and I feel the same way. The truth is that Senator Salazar has come to a compromise with Dr. James Dobson about an ongoing feud between them. Dr. Dobson has agreed to stop mentioning Senator Salazar in a negative context if he refuses to filibuster Samuel Alito."

I was stunned and speechless, so all I could say was, "What?"

The staffer went on:

"I'm sorry, but that's the truth, and that's why this is my last day working for Senator Salazar."
If this is accurate, it's beyond shocking. Senator Salazar must be asked to confirm or deny it. His phone number is (202) 224-5852.
(31 comments) Permalink :: Comments
It's Official. Both Massachussetts senators, John Kerry and Edward Kennedy will attempt a filibuster against Judge Sam Alito. Kudos to them.
PFAW just posted a tool at Save the Court that allows you to customize the message below and fax it to 13 key senators. PFAW also advises that Sen. Bill Frist has laid down the cloture petition which ripens at 4:30 pm Monday.
There's also Senate Phone List here, with numbers to all the Democratic Senators and the key moderate Republicans. There are two toll free numbers - 888-355-3588 or 888-818-6641.
Kerry has written a post at Daily Kos outlining his position.
(35 comments, 406 words in story) There's More :: Permalink :: Comments