Tag: Salim Hamdan
The review court for military commission trials issued an en banc opinion yesterday upholding the conviction of Osama bin Laden's driver, Salim Hamdan.
In justifying trial by military commission, it reached back to 1818.
In that case, U.S. forces under Gen. Andrew Jackson invaded Spanish Florida in 1818 to stop black slaves from fleeing through a porous border. Troops captured two British traders, whom the general ordered face a military commission on charges they aided the enemy by helping the Seminoles and escaped black slaves.

The tribunal convicted the men and sentenced them to a whipping. Jackson, a slave owner, declared the punishment too soft and had them executed.
The opinion is here.
(17 comments) Permalink :: Comments
The military jury in the trial of Guantanamo Detainee and Osama bin Laden driver Salim Hamdan reached a split verdit: Guilty of terrorism, not guilty of conspiracy.
Sentencing is expected to take place this afternoon. Life in prison is on the table. Hamdan cried as the verdict was read. His lawyers point out the inherent unfairness of the military tribunal trial process:
Hamdan's attorneys said the judge allowed evidence that would not have been admitted by any civilian or military U.S. court, and that interrogations at the center of the government's case were tainted by coercive tactics, including sleep deprivation and solitary confinement.
Unfair trials rob the public of the ability to trust in the integrity of the verdict. Guantanamo has been a failure and a black mark on America since day one. After the War in Iraq, this will be the biggest stain on the legacy of George W. Bush. Worst President Ever.[More...]
(8 comments, 523 words in story) There's More :: Permalink :: Comments
The military commissions trial of Salim Hamdan, driver for Osama bin Laden, went to the jury today.
Hamdan never testified in his defense across two weeks of trial testimony. But unlike suspects on U.S. soil... Hamdan had no right to an attorney or right against self-incrimination during 18 months of military and civilian interrogations from Afghanistan to Guantánamo.
In closing arguments:
[T]he Pentagon cast bin Laden's driver as an al Qaeda insider and the defense called him a Sept. 11 scapegoat. "He's an al Qaeda warrior. He has wounded, and the people he has worked with have wounded the world," prosecutor John Murphy told the jury. "You are the conscience of the community."

Countered Navy Lt. Cmdr. Brian Mizer, on behalf of the $200-a-month driver: "We will capture or kill Osama bin Laden some day. You should not punish the general's driver today with the crimes of the general."
By the numbers: There were only 10 media members in attendance on the last day of testimony. It took a Pentagon airlift to get most of them there at all.
(4 comments) Permalink :: Comments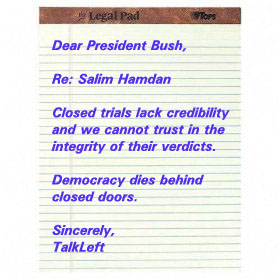 The defense has rested in the Guantanamo military commission trial of former driver Osama bin Laden driver Salim Hamdan.
The testimony for the defense portion of the case was closed to the public and journalists -- not because Hamdan or his lawyers wanted it closed but because the rules mandated it.
[More....]
(5 comments, 309 words in story) There's More :: Permalink :: Comments
The military commission trial of Osama bin Laden's driver, Salim Hamdan, got underway today.
The Judge barred the prosecution from introducing statements Hamdan made while detained at Bagram AFB in Afghanistan because they were the product of overly coercive techniques.
The judge said the prosecution cannot use a series of interrogations at the Bagram air base and Panshir, Afghanistan, because of the "highly coercive environments and conditions under which they were made."

At Bagram, the judge found Hamdan was kept in isolation 24 hours a day with his hands and feet restrained, and armed soldiers prompted him to talk by kneeing him in the back. His captors at Panshir repeatedly tied him up, put a bag over his head and knocked him the ground.
Other rulings: [More...]
(8 comments, 1298 words in story) There's More :: Permalink :: Comments
Jury selection in the military commission trial of Guantanamo detainee Salim Hamdan is set to begin Monday morning.
In a nutshell: The Government has charged Hamdan, a driver for Osama bin Laden, mostly with acts that predated 9/11 by years.
The defense says his conduct did not occur "in the context of" an armed conflict, or was not "associated with" an armed conflict.
Hamdan is facing life in prison. Even if acquitted, Bush may decide to hold him indefinitely as an "enemy combatant." As to his jury:
[A]t least five military officers will make up the jury, and a two-thirds vote is required for a guilty verdict. A three-fourths votes is required for sentences that are longer than 10 years.
More...
(10 comments, 968 words in story) There's More :: Permalink :: Comments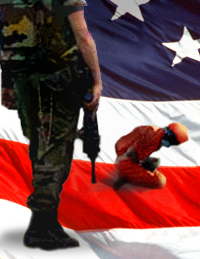 Bump and Update: The ACLU weighs in:
"Hamdan's trial, like those of other Guantánamo detainees accused of war crimes, should take place in an ordinary federal court or in a traditional military court. The Guantánamo military commissions allow the government to rely on evidence that the defendant never sees, on hearsay, and on evidence obtained through torture. The commissions are completely inconsistent with the Constitution and should be shut down."
A U.S. District Court judge today denied a continuance request for Salim Hamdan, former driver to Osama bin Laden.
His trial, the first military tribunal trial of a Guantanamo detainee, will begin as scheduled Monday. The judge in that proceeding also has rejected continuance requests.[More...]
(11 comments, 344 words in story) There's More :: Permalink :: Comments