Tag: Paris Hilton (page 2)
[Note: Scroll down for updates as I've added several]
The City Attorney in Los Angeles is challenging the Sheriff's decision to send Paris Hilton home on house arrest. The Judge has scheduled a hearing tomorrow. You can read the motion here. (pdf)
The City Attorney is also demanding that the Sheriff pick her up at her house tomorrow and transport her to court for the hearing.
There's more. He is asking the Judge to hold the Sheriff in contempt of court for putting Paris on home detention which the Judge precluded in his sentencing order. The court spokesman today said the Sheriff asked the judge to modify the sentence to home detention yesterday and the judge declined. But, the Judge was told of the sentence change before
My earlier post on Paris' release is here.
Update: I think it's up to the Sheriff where to place her. Even the court spokesman initially said today,
More....
(27 comments, 891 words in story) There's More :: Permalink :: Comments

(video here)
Bump and Update: TMZ reports she was released for mental not physical problems. She was on the verge of a nervous breakdown. I'll be discussing her release now around 1:45 p.m. ET on BBC News radio.
Post-BBC segment: I was the only one with any sympathy for Paris. [You can listen here, and fast forward to about 40 minutes in.]I think she was sentenced more harshly because she was a celebrity. A non-celebrity would not have received 45 days in solitary confinement. Most of the callers to the show complained about the different standards for the rich and poor. Poor people would not have had a top-notch lawyer or been provided relief due to a medical condition. My answer: Rather than say the rich shouldn't benefit from good counsel and compassionate care while incarcerated, we should find a way to ensure both are available to all inmates and defendants, including the poor ones.
Update: Andrew Cohen at CBS agrees she never would have gotten sentenced to 45 days in the first place had she not been a celebrity. Also getting it right: Blake Fleetwood at Huffington Post.
Update: Paris Hilton's lawyer released this statement with no detail. And once home, Paris phoned in for cupcakes and had them delivered.
More...
(48 comments, 418 words in story) There's More :: Permalink :: Comments
After one last party, the MTV Movie Awards, Paris Hilton surrendered to Los Angeles authorities last night to begin serving her 45 day prison term. She had until tomorrow to report.
She'll be in solitary 23 hours a day, in an 8×12 foot cell. She'll eat her meals in her cell. She gets an hour a day to shower, exercise or watch tv in the day room. She won't have a roommate, at least initially.
This is the "special needs" section of the jail for cops and celebrities.
At least she won't be forced to do slave labor.
She'll be out in 23 days, not due to overcrowding, but because all inmates get that much time off for good behavior.
Good luck, Paris.
(7 comments) Permalink :: Comments
Paris Hilton hasn't started serving her sentence yet, but it's already been halved to 23 days with time off for good behavior. What's good behavior? It includes showing up for her sentencing.
She'll be in a special housing unit, and that is not synonymous with special treatment. It means isolation from the general public for her protection. Her fellow inmates:
Hilton will stay in a unit that contains 12 two-person cells reserved for police officers, public officials, celebrities and other high-profile inmates, he said.

Like everyone else in the 2,200-inmate facility, Hilton will get at least an hour outside her cell each day to shower, watch television, participate in outdoor recreation or talk on the telephone, he said.
In other words, she'll be in 23 hour lockdown. That's ridiculous. She's being treated more harshly because of who she is. Her sentence was for violating probation by driving with a suspended license. She didn't drive drunk on probation. She didn't hurt anyone. I really doubt anyone else in that situation would have gotten more than five or ten days.
23 days in isolation (2 pairs of underwear a week) is absurd.
(62 comments) Permalink :: Comments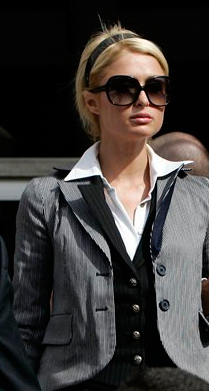 The Judge was hard on Paris Hilton today, sentencing her to 45 days in the L.A. County Jail for violating probation by driving while her license was suspended.
Hilton had been serving 36 months of probation after pleading no contest to a charge of alcohol-related reckless driving related to her Sept. 7 arrest in Hollywood. She also had been fined $1,500.
Paris' defense was a little weak -- she said her aides hadn't told her about the driving restriction.
Still, 45 days is stiff.
Her mother's reaction:
Hilton appeared stunned by the ruling and began to cry. Hilton's mother also began to show her displeasure visibly, shaking her head -- and had be warned by a court official to stop....

....Her mother, Kathy, told the prosecutor after the judge's decision: "You're pathetic."
Did Paris get a stiffer sentence because she's a celebrity?
Having spent all day in a county jail visiting clients denied bond in federal cases, I can tell you it's no walk in the park. And I bet the LA County Jail is a nightmare by comparison.
More...
(47 comments, 580 words in story) There's More :: Permalink :: Comments