Donald Trump Impeached for Second Time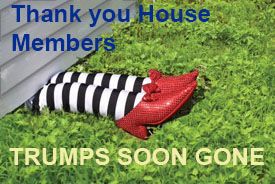 Donald Trump has been impeached for the second time by the House of Representatives. The vote was 232 to 197. 10 Republicans voted with the unanimous Democrats.
There will be a Senate trial after Joe Biden takes office. No timeline is set.
So long as he exits the White House and takes his children and son-in-law and top current and former aides with him, I don't care what label America ultimately tags him with.
Questions: Will he spend the next week issuing pardons to himself and his family and Rudy Giuliani? Will the Trump Organization face a slump in revenues? Will every hotel he's licensed his name to change its name and stop paying licensing fees? Will Deutsche Bank call his loans early or refuse to extend them?
Where will Ivanka and Jared go now that it's pretty obvious she won't be taking Marco Rubio's seat from him anytime soon? Will they be sorry they plopped $31 million down on a plot of land on a tiny island in Miami? Will Melania and her parents and Barron go back to New York? Will Donald move to Dubai? [More...]