Labor Day Weekend Open Thread
The Rolling Stones and Axl Rose of Guns 'N Roses singing "Salt of the Earth." It's my favorite song for Labor Day.
Below is one of my favorite sculptures. It is in downtown Omaha, at the Lewis & Clark landing, along Omaha's Missouri River Walkway. Created by Matthew Placzek, it is the second-largest labor monument in the U.S.. Two-hundred-fifty tons of cement and 39,000 pounds of steel were used in its construction.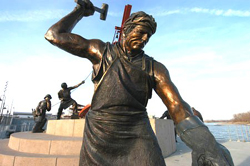 Larger version here. If you are ever in downtown Omaha, I highly recommend seeing it up close. The trail that leads to it is right by most of the major downtown hotels.
Enjoy the weekend everyone and if you are going out, please avoid large crowds.
This is an open thread, all topics welcome.