Feeling Thankful at Thanksgiving?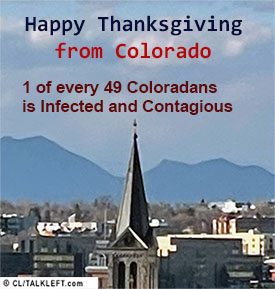 As of Friday, 2,900 people had died of COVID-19 in Colorado. 210,000 Coloradans were diagnosed with the disease. 81% of Colorado's ICU beds were in use as were 50% of the state's adult critical care ventilators. As of Saturday, 1 in every 49 Coloradans was contagious or infected.
Even Governor Jared Polis and the First Partner now have it.
Dr. Fauci was on TV today and he said we should prepare for a third wave. As for today's numbers:
More than 91,500 people were hospitalized with the virus on Saturday, with 18,000 in intensive care units. That's according to data compiled by the COVID Tracking Project, which collects and analyzes data from across the United States. Over 6,000 patients were on ventilators.
I hope everyone here found something to be thankful about. I was happy for the "alone" time. I made a lasagna instead of a turkey, and invited a single friend over. We ate outside on the balcony, seated 6 feet apart. [More...]