CO Gov Jared Polis Says He'd Sign Bill to Repeal Death Penalty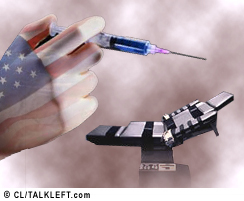 Colorado Democrats have re-introduced a bill to repeal the state's death penalty law. If it passes, Colorado will be the 21st state to ban the death penalty.
Our new Governor, former Congressman Jared Polis, says he will sign the bill if it passes. (In a Denver Post article, he said he also might then grant clemency to the three men on Colorado's death row, all of whom were prosecuted in Arapahoe County and all of whom are African-American.)
The bill will get its first hearing Wednesday. If you are a Colorado voter, please email your Representative and Senator (find them here)and urge them to pass this bill. You can read the bill here and follow its progress. And send thanks to Gov. Jared Polis.