Finale Night for El Señor de los Cielos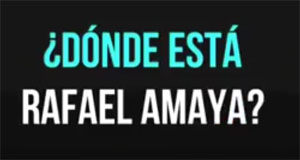 It's that time of year again. Tonight is the finale of the sixth season of El Señor de los Cielos (ESDLC 6). The show has been somewhat of a rudderless ship this season, due to the disappearance of lead actor Rafael Amaya midway through filming. Amaya plays Aurelio Casillas, loosely based on deceased trafficker Amado Carrillo-Fuentes. Some reports say Amaya contracted an illness in a bat cave while filming an episode of the show in Turkey and he's still gravely ill. Other reports speculate there were contractual disputes with Telemundo and he's out of the show permanently. Telemundo has said nothing and the show just keeps on trucking.
Until this week, there have been no sightings, even on social media. He wasn't at the wrap party for the show in August. But here he is, at an event with a Mexican political consultant for the new President, posted on her FB page on Sept. 19. So we know he's alive.
To cover Amaya's absence, Telemundo's writers put Aurelio in a coma at the end of July, so all we see is someone lying immobile in bed with a head swathed in bandages. Then they brought in an actor to play his half-brother that no one ever knew he had. [More...]