Nebraska Kills Inmate With Fetanyl Drug Cocktail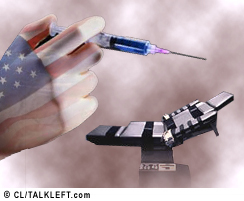 Carey Dean Moore was executed this morning with a four drug concoction that included fetanyl. Nebrasks wins the title of being the first state in the country to intentionally kill someone using Fetanyl. Nevada intended to be first until stopped by a court last month.
According to the Nebraska Dept of Corrections, it took 23 minutes for Moore to die after receiving the first drug.
The first of four substances was administered at 10:24 a.m. The Lancaster County coroner pronounced Moore's time of death at 10:47 a.m.
One media witness, Brent Martin of the Nebraska Radio Network, said that Tuesday's execution in the Nebraska State Penitentiary took longer than the 13 executions he witnessed in Missouri. In those executions, it took about five minutes to complete the lethal injection process.
About 15 minutes into the execution, ight after administering the last injection, officials closed the curtains for about 8 minutes, so the process was not as transparent as it should have been. When officials re-opened the curtains, Moore was already dead. Witnesses said his face was "darker purple, and mottled."
The four drugs used were: Diazepam was first, and then the fentanyl, then cisatracurium and then the heart-stopper, potassium chloride. [More...]