At the Border: Families Torn Apart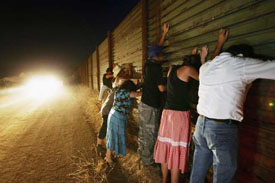 From Texas Monthly: "What's Really Happening at the Border" -- an interview with Anne Chandler, "executive director of the Houston office of the nonprofit Tahirih Justice Center, which focuses on helping immigrant women and children, she has been traveling to the border and to detention centers, listening to the parents' stories." What they do:
We run the Children's Border Project, and we work with hundreds of kids that have been released from ORR (Office of Refugee Resettlement) care. We are not a legal service provider that does work when they're in the shelters. To date, most of our work with that issue of family separation has been working with the parents in the days when they are being separated: when they're in the federal courthouse being convicted; partnering with the federal public defenders; and then in the adult detention center, as they have no idea how to communicate or speak to their children or get them back before being deported.
[More...]