Reuters: Repubs.May Cut Up to $28 Billion in Medicare If Tax Bill Passes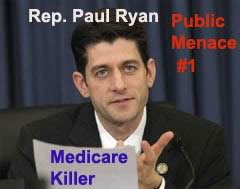 Republicans voters are so clueless and gullible. They actually believe tax cuts for the wealthy will trickle down to them, that Medicare is an entitlement program. They also don't care that their leaders talk out of both sides of their mouths.
Paul Ryan has been determined to cut Medicare for years. It's his pet issue. He's now salivating at the prospect of achieving his dream.
Reuters reports that on Wednesday Paul Ryan said he has started convincing Trump changes to Medicare are needed. Trump said early in 2018, they will tackle "welfare reform". Trump supporters thinks that means food stamps and are all for it.
[More...]