Hillary Wins Nevada Caucuses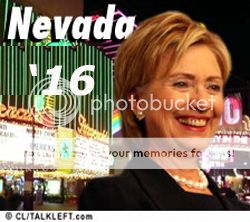 Hillary Clinton bested Bernie Sanders today in the Nevada Democratic caucuses. As of now,
Hillary has 52.5% to Bernies 47.4% with 86% of the vote in. The LA Times reports Bernie won the northern Nevada counties that Obama took in 2008, while the Washington Post says her support among African-Americans was very strong, and Bernie did pretty well among Latinos.
But according to preliminary entrance polls reported by CNN, she won among black Democrats by a whopping 76 percent to 22 percent. African Americans made up 13 percent of the electorate, according to the entrance poll, while 19 percent were Hispanic and 59 percent were white. Sanders held an eight-point edge among Hispanic voters, who accounted for roughly 1 in 5 caucus-goers, and the two candidates split white voters about evenly.
The LA Times also says Hillary won the casino vote. The Caesar's precinct chair says the vote was 190 for Hillary and 81 for Sanders. More on this from the Wall St. Journal. Here's a photo of Bill in the Caesar's ballroom at caucus time: [More...]