NY Federal Judge Enjoins Indefinite Detention Portion of NDAA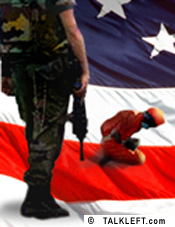 U.S. District Court Judge Katherine Forrest (SDNY) has granted a permanent injunction against the provision in the 2011 National Defense Authorization Act that allows the indefinite detention of individuals (including U.S. citizens) who substantially support Al-Qaeda, the Taliban or their "associated forces." The 112 page ruling is here.
This Court rejects the Government's suggestion that American citizens can be placed in military detention indefinitely, for acts they could not predict might subject them to detention, and have as their sole remedy a habeas petition adjudicated by a single decision-maker (a judge versus a jury), by a "preponderance of the evidence" standard. That scenario dispenses with a number of guaranteed rights.
[More...]