George Zimmerman: Missing From the Discovery
As Mark O'Mara reminds people on the George Zimmerman website, not all discovery has been provided. Some we will never see.
Things I'd like to know: What time did George Zimmerman leave his house? What route did he take from his house to where he parked his car? How long was he driving before he parked his car and called the non-emergency number to report Trayvon Martin? Where exactly was his car parked? What route did Trayvon take after walking close to GZ's vehicle? [More....]
Here's my latest map. (Note that "The Teacher," the older distraught 911 caller, doesn't live in the row of houses with the shared backyard. Her location is stated in the discovery version of her 911 call which is designated W-18 2/26 call.)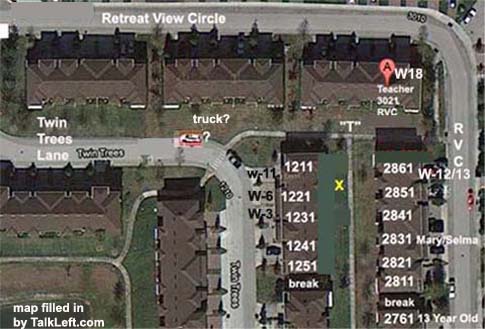 What discovery, other than Zimmerman's statements and photos of Trayvon Martin which are exempted from public records disclosure, do you think would be helpful to an analysis of where the encounter began and what ensued?