Israel and Hamas: Bombings Intensify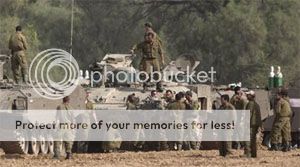 Israel has called up 75,000 reservists and struck Hamas Government buildings. Hamas has claimed credit for firing rockets at Tel Aviv and Jerusalem.
The Israeli military said some 150 rockets fired from Gaza had hit Israel since Friday and at least 83 more were intercepted by its Iron Dome anti-missile system.
Gaza is a small place with a lot of people, and there have been at least 38 civilian casualties, some of them children. Israel says it is acting in self-defense, and the rockets Hamas is firing at them come from Gaza.
This morning, Hamas fired 20 rockets at Israel. Israel says Operation Pilar Defense will continue. [more...]
Everyone seems to be on one side or the other. It's hard to know where to go to get neutral reporting. The one place you won't find it is on Twitter. There is hatred on both sides there, but from what I've seen, it is mostly critical of Israel.
Who started this round? Both sides accuse the other. Here's a timeline. The author's conclusion is "Hard to say."
Hopefully this will end soon without too much more loss of life.
Please keep your comments free of vitriolic attacks, name-calling and unsupported allegations. I'm not taking sides right now. While I'm not joining those criticizing Israel, I do have some sympathy for those under attack in Gaza. I may report on major developments, but I don't intend to get into who's right and who's wrong. Readers can, so long as they do it politely. If it turns into a hate-fest against one side or the other, I'll just close the thread.