California Execution Postponed to 2011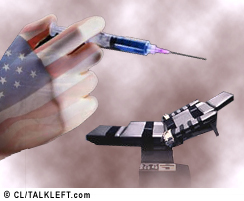 Albert Brown will not be executed Thursday in California. The 9th Circuit Court of Appeals directed Judge Jeremy Fogel to re-examine his decision last week allowing it to go forward.
The stay came a day after California officials announced that the state's supply of sodium thiopental, a barbiturate used in executions, was good only until Friday, a revelation that seemed to shock the appellate panel. "It is incredible to think that the deliberative process might be driven by the expiration date of the execution drug," the panel wrote.
The 9th Circuit said Judge Fogel did not have the authority to allow the inmate to choose his lethal cocktail: [More...]