Judge Authorizes CA Execution, Inmate Can Choose Drug Cocktail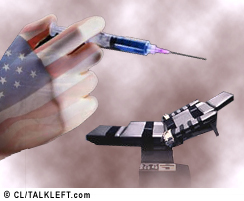 California's executions have been on hold since 2006. A federal judge today cleared the way for them to resume. He said the problem regarding the method of injection is solved by allowing the inmate to choose between a one drug or three drug cocktail.
"Allowing a condemned inmate to make such a choice is consistent with Ninth Circuit authority in cases arising both in California and elsewhere," he wrote.
[More...]
From the San Francisco Chronicle:
[Judge] Fogel acknowledged that he has not yet reviewed the state's amended procedures to determine whether they still pose a risk of violating the constitutional ban on cruel and unusual punishment.

But he said the condemned inmate, Albert Greenwood Brown, could avert that risk by choosing to be executed with a single drug - a heavy dose of the sedative sodium pentothal - rather than the three-drug combination California has used in past executions.

The potential for excruciating pain comes from the second and third drugs, paralytic and heart-stopping chemicals, if the sedative fails to work properly. Fogel noted that Ohio and Washington state have used one-drug executions on nine prisoners in the last year without reported difficulties.