Judge Authorizes CA Execution, Inmate Can Choose Drug Cocktail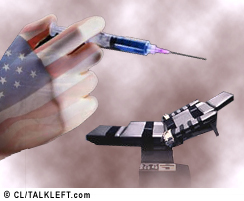 California's executions have been on hold since 2006. A federal judge today cleared the way for them to resume. He said the problem regarding the method of injection is solved by allowing the inmate to choose between a one drug or three drug cocktail.
"Allowing a condemned inmate to make such a choice is consistent with Ninth Circuit authority in cases arising both in California and elsewhere," he wrote.
[More...]