Federal Judge Stays AZ Execution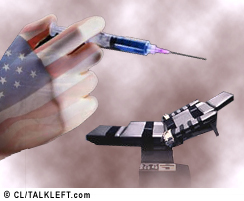 Last week we wrote about the impending Arizona execution of Jeffrey Landrigan. Landrigan alleged that the sodium thiopental Arizona planned to inject into Landrigan was not made by Hospira, Inc., the one U.S. company authorized to manufacture it. In other words, it came from a foreign source. He sought a stay and an order compelling the state to disclose the origin of the drug. The Arizona Supreme Court denied both requests.
With only 18 hours left before the execution, a federal judge today granted Landrigan a stay and ordered Arizona to immediately disclose the source of the drug. The court's 19 page ruling is here.
According to the Arizona Republic, the drug came comes from Great Britain. [More...]