Dick Cheney Defends CIA Torture, Insults and Criticizes Obama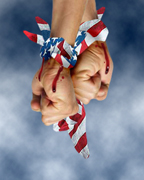 Dick Cheney continues to insist the CIA interrogators should neither be investigated nor prosecuted. He continues to praise their work.
"The people involved deserve our gratitude. They do not deserve to be the targets of political investigations or prosecutions," he said in a statement dated Monday.
[More...]
"The activities of the CIA in carrying out the policies of the Bush Administration were directly responsible for defeating all efforts by al Qaeda to launch further mass casualty attacks against the United States," Cheney said.
And in a slam to Obama:
"President Obama's decision to allow the Justice Department to investigate and possibly prosecute CIA personnel, and his decision to remove authority for interrogation from the CIA to the White House, serves as a reminder, if any were needed, of why so many Americans have doubts about this Administration's ability to be responsible for our nation's security," Cheney said.