Senate Adds Expanded Death Penalty to Hate Crimes Bill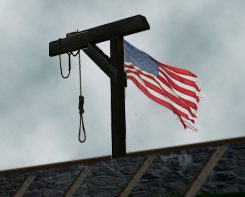 Two things I already knew: Sen. Jeff Sessions is a danger as the ranking Republican on the Senate Judiciary Committee and the Senate's Hate Crimes bill is ill-conceived legislation.
Things I now know: It's worse than I thought. The ACLU reports the Senate yesterday approved an Amendment by Jeff Sessions expanding the use of the death penalty for hate crimes. (Why not just life plus cancer as a penalty while he's at it?)
From the ACLU and then an action alert to get this removed.
The U.S. Senate yesterday passed an amendment extending the death penalty for certain hate crimes. The amendment, sponsored by Senator Jeff Sessions (R-AL), was added to the hate crimes amendment to the Defense authorization bill that passed last Thursday. In a letter sent to Senators, the American Civil Liberties Union urged lawmakers to oppose this misguided and wrong expansion of the federal death penalty.
[More...]