Rove Finishes Interview Over U.S. Attorneys' Firings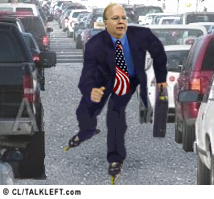 If anyone knows the paces of a q and a by prosecutors and/or a grand jury by now, it's Karl Rove, who with four such appearances under his belt, never got indicted in PlameGate.
Today's interview on the U.S. Attorneys' firing was probably a piece of cake for him. He and his very able lawyer, Bob Luskin, were seen laughing it up as they were about to enter the building.
I doubt after hours of being prepped by Luskin, there was any question Rove couldn't answer either ambiguously but truthfully or with a clever dodge. [More...]