Report: Generals Knew About Guantanamo Torture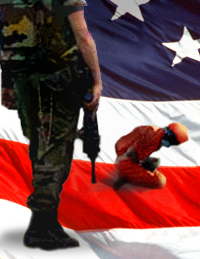 A new report from the Seton Hall Law Center for Policy and Research:
Today Seton Hall Law delivered a report establishing that military officials at the highest levels were aware of the abusive interrogation techniques employed at the detention camp at Guantánamo Bay (GTMO), and misled Congress during testimony. In addition, FBI personnel reported that the information obtained from inhumane interrogations was unreliable.
[More...]
Professor Mark Denbeaux, Director of the Seton Hall Law Center for Policy and Research, commented on the findings: "Who knew about the torture at GTMO? Turns out they all did. It's not news that the interrogators were torturing and abusing detainees. We've got FBI reports attesting to this. But now we've discovered that the highest levels knew about the torture and abuse, and covered it up.
The report is: TORTURE: WHO KNEW: An Analysis of the FBI and Department of Defense Reactions to Harsh Interrogation Methods at Guantánamo.
It is the Center's 13th Guantánamo Report, and like its predecessors, based on the government's own documents, most of which were procured through Freedom of Information Act suits.
Posts on prior reports are assembled here.