Four Abu Ghraib Torture Lawsuits Filed Against Military Contractors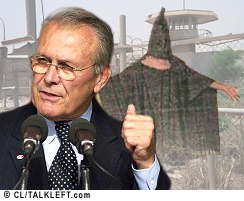 The Center for Constitutional Rights has filed four lawsuits against military contractors on behalf of four detainees who were subjected to torture at Abu Ghraib.
The defendants are CACI International Inc. (NYSE: CAI) and CACI Premier Technology, Inc., of Arlington, Va.; L-3 Services Inc., an Alexandria, Va.-based division of L-3 Communications Corp. (NYSE: LLL), of New York; and three individual contractors, Adel Nakhla, of Montgomery Village, Md., Timothy Dugan, of Pataskala, Ohio, and Daniel E. Johnson, of Seattle, Wash.
The allegations:
The lawsuits allege that the defendants committed multiple violations of U.S. law, including torture, war crimes, and civil conspiracy. CACI, which provided interrogators at Abu Ghraib, and L-3, which provided translators at the prison, were linked to abuses there in military court martial proceedings which resulted in convictions for U.S. military personnel but no civil or criminal penalties for contractors implicated in abuses. According to the lawsuits, the individual contractor defendants allegedly "tortured, and conspired with others to torture."
The lawsuits were filed in the federal district courts where the contractor defendants reside: Maryland, Ohio, Michigan, and Washington state.