FISA Court Asked FBI About Illegal Wiretapping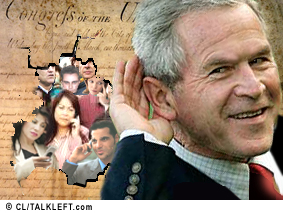 Ryan Singal reports newly declassified documents show that the FISA Court had concerns the FBI was wiretapping innocent Americans:
Does the FBI track cellphone users' physical movements without a warrant? Does the Bureau store recordings of innocent Americans caught up in wiretaps in a searchable database? Does the FBI's wiretap equipment store information like voicemail passwords and bank account numbers without legal authorization to do so?

That's what the nation's Foreign Intelligence Surveillance Court wanted to know, in a series of secret inquiries in 2005 and 2006 into the bureau's counterterrorism electronic surveillance efforts, revealed for the first time in newly declassified documents.
A review of the declassified documents shows: [More...]