What's Considered a Win for Hillary in Pennsylvania?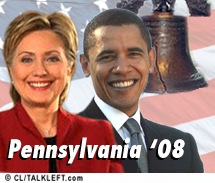 What's a win for Hillary in PA today? For me, it's:
winning the popular vote by any margin
winning among rural, older, Catholic and women voters.
Coming in second only or primarily among African American and younger voters.
The goalpost of PA in my view is neither the pledged delegate count nor a huge total vote margin. It's showing the superdelegates that Hillary has the better (if not only) chance of taking big states like PA, Ohio and Florida in the general election. [More...]
Except for Illinois, Obama hasn't shown he can win the big states. Democrats need Pennsylvania, Ohio and Florida. In November, Democrats are unlikely to carry many of the small states Obama has won so far. The upcoming primaries in North Carolina, Montana, South Dakota also don't matter much -- they are almost certain to go Republican in November.
While California and New York and Illinois are likely to go Democratic whoever is the nominee, they are not enough to bring the Dems to victory.
We need Ohio, PA and/or Florida. Michigan and New Jersey would be nice. The superdelegates need to factor this into their decision.
So, if Hillary wins PA, by whatever margin, it's a win. It means she's won the popular vote not just there, but in CA, NY, Ohio, FL, MA and NJ. I think she'll also take Indiana.
She's better in the big states than Obama. Dems need big states to win in November. For me, it's as simple as that.
What do you consider a win for Hillary today?