Electability: Why Hillary Is More Likely to Beat McCain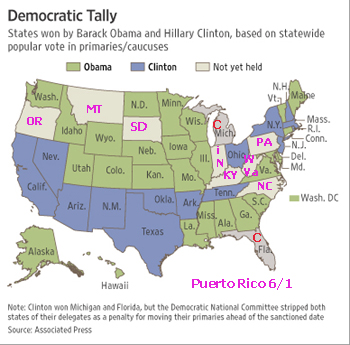 Bump and Update: The AP reports superdelegates are not feeling bound by primary results, but more concerned about electability. And the International Herald Tribune says McCain's new strategy is to go after the toss-up states.
***
There's no question that superdelegates will consider electability as a factor in deciding whether to vote for Hillary Clinton or Barack Obama. Based on this analysis by long-time Democratic party activist William Arnone, which I return to again and again for the numbers, here's what I think they need to look at:
Who can best hold on to the 20 states the Dems won in 2004? Which candidate is more likely to put these states at risk in a battle with John McCain?
Which candidate has the better chance of winning states that voted Republican in 2004 but are now seen as vulnerable for McCain?
Which candidate has a better chance of getting the votes of four key constituencies that could carry the election for McCain?
Answers below: [More...]