Texas: 50% of Primary Vote In, Hillary Ahead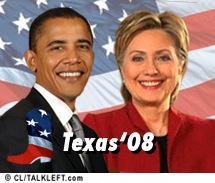 Okay, it's down to Texas. 50% of the primary vote is in, and Hillary is ahead. She leads by 30,000 votes.

Hillary has swept through rural Texas. Obama has Dallas and Houston, but she has San Antonio by 12%. She'll also take El Paso and the South.