Mukasey Personally Opposes Death Penalty for al-Qaeda Detainees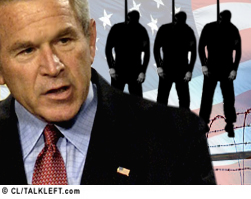 Attorney General Michael Mukasey was in London speaking to a group at the London School of Economics. After his speech, and speaking for himself only, he said he he personally opposed the death penalty for the 9/11 detainees at Guantanamo. He gave an analogy.
"I kind of hope they don't get it," Mukasey said after a speech at the London School of Economics. "Because many of them want to be martyrs, and it's kind of like the conversation … between the sadist and the masochist."

"The masochist says hit me and the sadist says no, so I am kind of hoping they don't get it," he said.
Mukasey noted that the military commission trials at Gitmo are being conducted by the Defense Department, not the Justice Department, although DOJ is cooperating with them.
Law professor Doug Berman at Sentencing Law and Policy is outraged at Mukasey's comments. I'm not. [More...]