Tsunami Tuesday: Polls and Delegates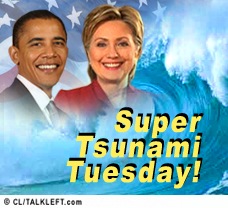 USA Today/Gallup, CBS/New York Times and McClatchey/MSNBC have new polling results. The full CBS Democratic poll is here (pdf).
Nationally, Hillary and Obama are close to being tied. CBS says Hillary is substantially ahead in the Super Tuesday states:
Among voters in those states, she leads Obama, 49 percent to 31 percent, with 16 percent still undecided.

Clinton also holds a big edge on the issue of most concern to Democratic voters: the economy. Nearly 60 percent say she would do a better job of managing the economy than Obama. However, more than two-thirds of Democratic voters see the policy differences between the two candidates as minor.
McClatchy-MSNBC polled 9 states, and found Hillary ahead in all but Georgia. (Remember the maps showing the Florida counties won by Obama? All 9 were in the most northern part of the state, 7 bordered on Georgia and 1 on Alabama.)
More...