Election Day Afternoon Open Thread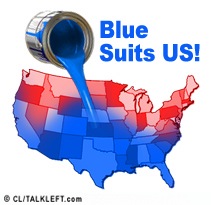 Tonight Jeralyn, TChris and I will be live blogging the election results. I will concentrate on the Congressional races and J will concentrate on the Presidential race.
I got an e-mail from a friend that says about Ohio - "Chaos. Every imaginable problem. I'm a supervisor @ statewide call-in center reviewing all complaints from pollwatchers. Its a war. More later." Anyone in Ohio got anything to add on this?
This is an Open Thread.