NYT/CBS Poll: 59% Say Palin Unqualified, Hurting John McCain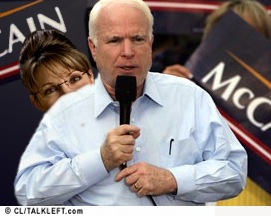 Among the more notable findings in today's New York Times/CBS News poll is that 59% of voters say Gov. Sarah Palin is not qualified for the job of Vice-President. On October 8, it was 50%.
All told, 59 percent of voters surveyed said that Ms. Palin was not prepared for the job, up 9 percentage points since the beginning of the month. Nearly a third of voters polled said that the vice-presidential selection would be a major factor influencing their vote for president, and those voters broadly favored Senator Barack Obama.
As to how his choice of Palin has damaged McCain's image: [More...]