Debate Expectations and Predictions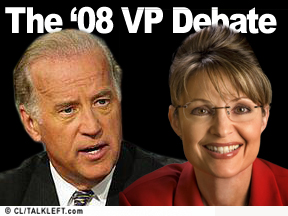 In 90 minutes, Sen. Joe Biden and Gov. Sarah Palin will debate. Politico reports Palin's game plan is to attack Biden and throw his words from former statements, particularly about foreign policy, back at him. Biden, it reports, will be a "just the facts" style debater, concentrating on defending Obama and attacking McCain.
Expectations for Palin, once in the tank, now are mounting.
"This is going to finally put her back into a position where we see her like we saw her the first couple weeks," a McCain official said. "She was herself. She was authentic, and people related to that. ... Tonight, she'll get into a rhythm. You're going to see her in a way that you haven't seen her yet."
I don't know that anyone much cares. They're tuning in to see if there's a train wreck.
I don't expect any major gaffes from Palin. She's been coached to the gills by now. Nor do I expect she'll win McCain any voters. [More...]