Supreme Court Denies Cert for Troy Davis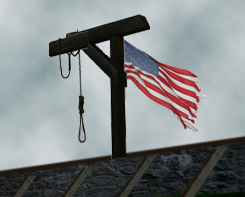 The Supreme Court today denied cert for Georgia death row inmate Troy Davis. In September, the Court had granted a stay hours before Davis was to be executed. 7 of the 9 witnesses against him recanted their testimony and the eyewitness evidence in the case was extremely problematic.
Amnesty International responds:
The U.S. Supreme Court denied Davis' petition for writ of certiorari that was submitted on constitutional grounds of due process and cruel and unusual punishment violations if an individual is put to death despite significant claims to innocence. Davis' attorneys filed the petition after the Georgia Supreme Court's narrow 4-3 ruling to deny Davis an evidentiary hearing last March; the ruling was based on technicalities rather than basic questions of guilt and innocence.
More...
"The Supreme Court's decision is truly shocking, given that significant evidence of Davis' innocence will never have a chance to be examined," said Larry Cox, executive director for AIUSA. "Faulty eyewitness identification is the leading cause of wrongful convictions, and the hallmark of Davis' case. This was an opportunity for the Court to clarify the constitutionality of putting the innocent to death – and in Davis' case, his innocence could only be determined with a new hearing or trial."

"It is disgraceful that the highest court in the land could sink so low when doubts surrounding Davis' guilt are so high," Cox added.
Clemency was rejected for Davis in September. Today's ruling means Davis's execution can be rescheduled. Our past coverage of the case is accessible here.