Hillary Clinton's Speech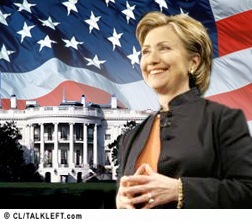 Update: Here's the transcript.
****
With Bill and Chelsea beaming, but seated rather than standing by her side, looking fabulous and happy, Hillary Clinton takes the stage.
She tells New Hampshire "Thank you. I listened to you and in the process I found my own voice. "
"Let's give America the kind of comeback New Hampshire has just given me."
More....