Supreme Court Hearing Oral Arguments in Baze Lethal Injection Case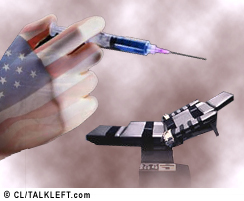 I'm listening to the Supreme Court oral arguments in the Baze lethal injection case (Baze v. Rees (07-5439.) Justice Stevens is questioning the lawyer for the Kentucky Department of Corrections.
Justice Stevens just asked the lawyer for Kentucky about why veternarians won't even use the procedure on dogs. (Background, You Wouldn't Do a Dog This Way.) Justice Roberts jumped in and the KY lawyer said if you drop the first drug, which they've done, it's all fine and good.
Justice Stevens says he's concerned the second drug is also problematic.
Justice Ginsberg asks why they pick non-professional people to administer the drugs. (Doctors and nurses are banned. )
Sentencing Law and Policy has been following the case closely. How Appealing has gathering of news articles.
Here's an article on the lawyers arguing the case. The defense lawyer is a 29 year old public defender. [More...]