FISA Reauthorization Vote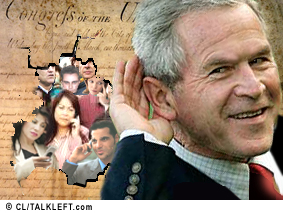 Update: Cloture vote fails, 48-45. They are now going on to a vote on the 30 day extension. The President has said he would veto a bill with an extension. The Republicans ask for a vote against cloture on the 30 day extension. Harry Reid is arguing for a 30 day extension. Cloture vote fails.
****
The Senate is voting on limiting debate and amendments to a substitute FISA bill. The Intelligence Committee bill provides for retroactive telecom immunity. They are voting now. Both Hillary Clinton and Barack Obama voted "No."
Firedoglake has been live-blogging the hearing all afternoon.