South Carolina Dem Debate Preview Open Thread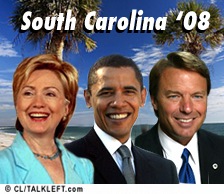 I'll be live blogging the Democratic South Carolna Debate tonight. It will be broadcast on CNN starting at 8 EST.
What I expect tonight is an uneventful debate praising unity, Martin Luther King, Jr. and the historic nature of the candidacies of Hillary Clinton and Barack Obama. We may get a lot of substance too. I expect no fireworks. But I have been wrong too many times to count in this election.
This is an Open Thread.
Update [2008-1-21 19:36:21 by Big Tent Democrat]:
This is rich.
Media Darling Obama complains about the Media
: [More...]