1996 Redux on Wiretaps: Is Anybody Listening?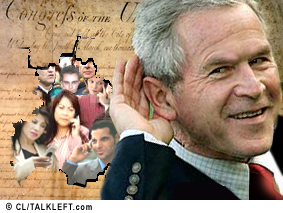 I'm angry but not surprised that the Democrats propelled the FISA Amendment to passage this past weekend. Matt Stoller today has the response from the ACLU to his post yesterday accusing it of dropping the ball. They didn't of course. It was the Democratic leadership who not only dropped the ball, but picked it up and ran with it. The ACLU writes to Matt:
We met with Pelosi and with Reid -- we spoke with the staff from every leadership office. They did not listen to us. It was dem leadership who scheduled the vote on these particular bills. Why be mad at us and not at them? We met with them. They rebuffed our arguments.

We weren't notified that the bill was moving until 6 days before when Rep. Harman let it slip on Late Edition with Wolf Blitzer. We gave it the full court press: with action alerts, meetings with Members of Congress and Senators and their staff.

Pelosi and friends spent the entire week negotiating with the DNI and cut out ALL the civil liberties groups - not just the ACLU.
The Democrats have pulled this before, including the last-minute wrangling right before the August recess. Their reason then, like now, was that they were afraid of appearing soft of crime and terrorism.
Let's take a walk back to 1996.
More...