All Sides Agree Libby Should Serve Supervised Release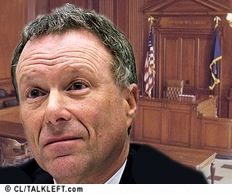 The briefs are in and both the Government and Team Libby, as well as White House Counsel Fred Fielding who submitted a letter, agree: Libby's two year term supervised release is valid and he should begin serving it immediately.
Fitz's brief is here (pdf), Libby's is here, and Fred Fielding's letter (which he sent to both sides and filed with the court even though neither side took Judge Walton up on his suggestion and asked for the White House's opinion) is here.
I'd say it's a done deal. Libby will be on supervised release before the week is out.
For what supervised release means for Libby, see my earlier post, Life on Supervised Release. For TalkLeft's analysis of the issue of the validity of the supervised release term in light of the commutation see Suggestions for Judge Walton on Libby's Supervised Release.