Dems Cancel Intelligence Hearing , Push for FISA Changes Before Recess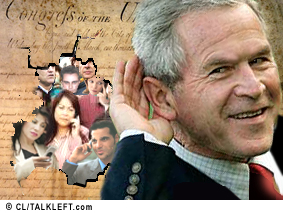 Update: Myths and Facts About FISA.
****
Republicans have been pushing to amend FISA before the August recess. A hearing of the House Permanent Select Committee on Intelligence at which Director of National Intelligence Mike McConnell was scheduled to testify today has been canceled.
Yesterday, for the first time, McConnell briefed Sen. Arlen Specter on the NSA program. While Specter hasn't discussed what he learned at the briefing, after it he labeled attempts to impeach or bring perjury charges against Alberto Gonzales "premature."
We need to slow down this train. FISA doesn't need to be gutted or amended. It needs to be followed.
"FISA was enacted to ensure that no president could unilaterally decide who to secretly and indefinitely wiretap under the guise of national security. These bills would allow terrorism to be used as a pretext for undermining our basic Fourth Amendment rights. Congress should not pass the bills which give the president a blank check to violate the rights of innocent Americans."
Congress should just say no to gutting FISA.
Update below: FISA action may not be off the table after all: