Duke University Settles With Wrongly Charged Lacrosse Players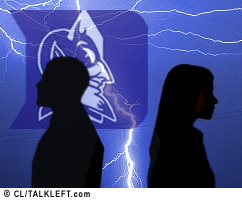 Duke University has agreed to a financial settlement with the wrongly charged Duke Lacrosse players. Here is the University's press release:
Durham, NC -- On Monday, Duke University leaders announced they have reached a settlement with David Evans, Collin Finnerty and Reade Seligmann. Below are statements about the settlement.

STATEMENT OF THE BOARD OF TRUSTEES AND THE PRESIDENT OF DUKE UNIVERSITY:

This has been an extraordinary year for Duke students David Evans, Collin Finnerty and Reade Seligmann, who were accused of serious crimes they did not commit. In April, after a thorough review, the North Carolina Attorney General declared that they were innocent of all charges and that the charges never should have been brought. We welcomed their exoneration and deeply regret the difficult year they and their families have had to endure. They conducted themselves with great dignity during their long ordeal.