DA Mike Nifong on Trial for Ethics Violations in Lacrosse Case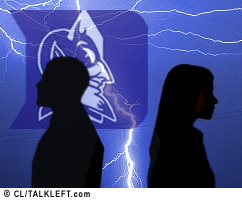 Durham, N.C. District Attorney Mike Nifong faces the music today for his conduct during the debacle that became the Duke lacrosse players' non-sexual assault case.
The ethics trial is being streamed at WRAL.com and you can watch live here.
The bar prosecutor's side:
"This didn't have to happen and the horrible consequences were entirely foreseeable," State Bar Counsel Katherine E. Jean said during her opening statement. "The harm done to these three young men and their families and the justice system of North Carolina is devastating."
More....