Soprano's Final Season: Episode 82, "Walk Like a Man"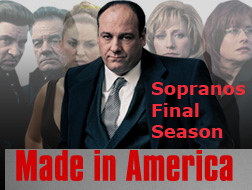 Episode 82 is tonight: "Walk Like a Man."
This week, A.J. struggles with depression. Meanwhile, Kelli's dad is the unwitting catalyst of a new feud between Christopher and Paulie.
Paulie sure is getting his share of attention this season. I wonder if it means he'll be gone by the season's end.
So many loose ends, so few episodes left. Anyone have any predictions or reactions?