Suicide at Guantamo: Saudi Detainee Kills Himself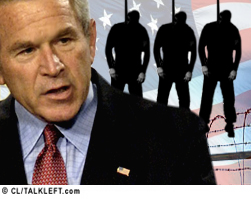 CNN is reporting a Saudi detainee has committed suicide. Some information is available here.
In other Gitmo news, 15 American lawyers are in Yemen.
Fifteen American lawyers have come to Yemen in order to reveal the truth about the situation of Yemeni detainees at the

U.S.

prison in Guantanamo Bay, Cuba, they said this week at a press conference in Sana'a. They claim that the

U.S.

government was lying when it said that Yemen has refused to accept its detainees back into the country. "The main purpose of our visit is to expose the lie that the Yemeni government does not want its citizens back," said Tina Foster, the executive director of the International Justice Network.
A few more details. The New York Times also reports, with some reactions from Guantanamo lawyers.